Knife Party at Pier 94
At Pier 94, United States on 26 Oct 2012 from 21:00 to 27 Oct 2012 At 04:00
Lineup
Friday October 26
RPM & HARD present...

The Haunted House Tour
featuring
Knife Party
along with
Tommy Trash, Kill The Noise,
Style of Eye, Baauer & Destructo
Description
* All ticket prices include $3 facility fee
VIP Ticket
• Express VIP Entry (separate entrance for VIPs ONLY)
• Exclusive private elevated VIP area overlooking all the action
• Private VIP bathrooms
• Commemorative All Mixed Up T-Shirt & Laminate
• Price includes cost of admission
VIP Table for 4
• 1 bottle of Vodka
• 1 bottle of Champagne
• Bucket of Red Bull
• Bucket of Bottled Waters
• Reserved table & cocktail waitress service
• Express VIP Entry (separate entrance for VIPs ONLY)
• Exclusive private elevated VIP table areas overlooking all the action
• Private VIP bathrooms
• Commemorative All Mixed Up T-Shirt & Laminate
• Price includes gratuity & admission

VIP Table for 6
• 2 bottles of Vodka
• Bucket of Red Bull
• Bucket of Bottled Waters
• Reserved table & cocktail waitress service
• Express VIP Entry (separate entrance for VIPs ONLY)
• Exclusive private elevated VIP table areas overlooking all the action
• Private VIP bathrooms
• Commemorative All Mixed Up T-Shirt & Laminate
• Price includes gratuity & admission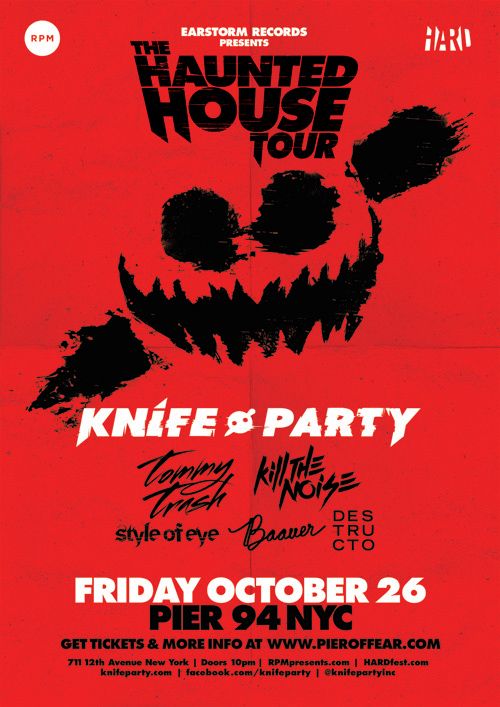 New York - Halloween is no soft holiday; it's not for teddy bears, smooth jazz, or, frankly, wusses. So this year in New York, get ready to go HARD.
RPM and HARD are proud to announce THE HAUNTED HOUSE TOUR, the legendary promotion companies' first collaboration, and the most fearsome Halloween party this side of the Mississippi.
Set at New York's Pier 94 – the site of Avicii's epic New Year's party – the party brings together EDM's most dangerous artists, swinging razor-sharp beats and dropping atom bombs of bass on the West Side harbor.
Headliners KNIFE PARTY released the "Fatal Attraction" track of the year with stalker-fest "Internet Friends," and rocked Beekman Beer Garden for RPM back in June. After huge US performances at Ultra, Electric Daisy, Red Rocks and most recently Randalls Island; Rob Swire and Gareth McGrillen will play on the holiday they were named for, and party recklessly with anthems like "Bonfire" and "Antidote," their collaboration with Swedish House Mafia, plus a box full of their own electro remixes and anthems.
TOMMY TRASH is making his New York debut with the RPM family, but you know the bushy-haired Aussie for hard-hitting, very dirty tracks like "Cascade" and "Future Folk" on Tiësto's Musical Freedom imprint.
Deadmau5 bud KILL THE NOISE is also making his debut, with his devilish, diamond-eyed skull logo prepping you for the fatal bass onslaught to follow. The former drum 'n' bass producer is all about the drop now, collaborating with bass boys like Dillon Francis, Skrillex and Feed Me, and releasing his own originals on Mau5trap and Owsla.
Swedish-born STYLE OF EYE does it all. With releases everywhere from Sebastian Ingrosso's Refune to indie favorite Fools Gold, he goes from b-tch house to minimal techno to disembodied glitch. With creepy sounds and lurking voices, prepare to enter his sonic funhouse.
Brooklyn native BAAUER's utterly filthy "Harlem Shakes" on Mad Decent is all you need to know about this very fresh young producer. A little Moombahton, a little house, a little dub, it's all wrong, but so right.
True to his DJ name, Gary Richards - aka DESTRUCTO - has wreaked havoc on the EDM scene since he founded Hard Events, breaking down the expectations of what live events can be, and building them back up again, with intense experiences like Holy Ship! (party on a boat!) and Hard Fest. As a DJ, he favors electro and techno with unexpected touches, honoring his rave history.
About RPM
RPM is the world's premier dance music focused marketing and management group; founded and operated by Pacha NYC owner Eddie Dean and promotional director Rob Fernandez. In the last year alone, their team has produced over 200 events in and around New York City, most recently including Size in the Park with Steve Angello, which sold out in just five minutes.
About HARD
HARD was founded in 2007 by Gary Richards (who also DJs under the name Destructo) to return to his roots promoting live concert events. HARD Events such as HARD New Year's Eve, HARD Haunted Mansion, Hard 13, and HARD Summer have become synonymous with larger-than-life performances, educated party people, stunning productions, and the brightest rising stars.
Due to the nature and scale of this event we will require all ticket holders to attend in the groups that tickets were purchased.
BUYER BEWARE: If you buy a print-at-home-ticket or hard ticket from an unauthorized vendor or source (ie: Stubhub, ebay, craigslist) we cannot guarantee that it is a valid ticket. Clubtickets and Pacha are not responsible for any counterfeit tickets and cannot provide support for any third party purchases.
GROUP TICKETS: Multiple tickets will be grouped under a single e-ticket in the name of the cardholder. You will be required to arrive with your group. As noted on the event page and during the checkout process, the credit card that was used to make the purchase or a government issued photo ID may be requested upon entry. This is to ensure a speedy entry and to keep tickets out of the hands of scalpers.
Dresscode
Halloween.
Currently, there are no tickets available for this event.
Entry Notes & Door policy
---
18
This event is for 18 and over only.
E Tickets are Mobile! Just bring the PDF with barcode on your phone to the pre-sale entrance along with the card used for booking and valid identification: Drivers License or other state photo identity cards issued by Department of Motor Vehicles (or equivalent), U.S. passport, U.S. passport card, U.S. Military ID, Permanent Resident Card, foreign government-issued passport.
Venue Info
---
Pier 94
Address
711 12th Ave New York
Directions
There are several parking facilities surrounding the Show Piers. Private cars access to the Show Pie... More...